Bangladesh - an internship doesn't have to be just a boring job
To appear out of the blue in the midst of chaos in a small and rusty CNG heading from the center of Dhaka was like a bad start to an Indian story. But no way, this is Bangladesh. For many people, Bangladesh means a country they will never want to visit. It is deeply written in our minds as overcrowded, super dirty, and poor. Maybe that's why I was so attracted to it here.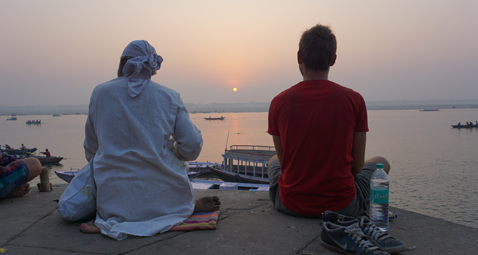 What is Bangladesh actually like?
Yes, it's really dirty. Hygiene is an unknown word; overcrowding is somehow an inadequate expression, and chaos. But the chaos that works in the end. What Bangladesh is losing in the field of international popularity is surprisingly catching up in humanity. Since Bangladesh is not convincingly a tourist country and is not ready for it, people will smile at you, greet you, help whenever and wherever you need it. It often happens that people just stand near you and just look at you or ask where you are from. Fun at first, but when you solve a problem, it can be annoying. Don't expect any beautiful natural formations or pure nature regarding Bangladesh. If there are forests here, then only on the border with India, where the landscape's shape is changing, otherwise it is a flat pancake, where you can only see rice fields. When you realize that 180 million inhabitants live in an area twice the Czech Republic size (unofficial number, it is not possible to find out exactly), it follows that rice comes out as a crop with the highest number of calories per square meter.
Therefore, where there are no villages, small towns, slums, or landfills, there is a rice field. Waste is not dealt with much here either; usually, it is just taken to the city, where it is allowed to rot or thrown to the tracks. You must accept this fact and judge it because you are just a guest. But what I really enjoyed were the banana trees, palm trees, and all the tropical plants. You can only see it in the Czech Republic in the Zoo or the botanical garden, and here it grows beautifully. What is really incredible when you meet elephants by the roadside, or you see monkeys in the rainforest, they just live, and you are in their home. Bangladesh is known worldwide for its textile production. Many branded things come from here. Everything is very cheap here, so you can ventilate your wallet nicely and get a lot for your money - especially everything with a world-famous brand. The national sport is cricket, the national flower is lotus.
The truth about internships
The words practice and internship somehow collide here. If you go like me to a very interesting-sounding College of Aviation Technology, you will be disappointed. Research is by no means conducted here, but if you wish, there is an opportunity to improve in some courses dealing with aviation issues taught in English. But don't expect miracles. IAESTE is represented here by one man, Mehedi Hasan, who can suddenly make the tragedy the best three months in Asia. Not only is nothing a problem, and everything can be arranged, but you can get to know Bangladesh to the bone. As a foreign tourist, you have a kind of advantage, and the impossible becomes possible for you. Want to see a tea factory from inside? Just ask! Do you need any permission? Go to the ministry, and if the soldiers don't want to let you in, call the captain or major, and he'll be able to take you to the appropriate person to the office.
Not only work but also fun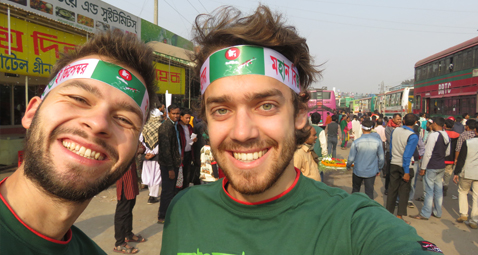 You will receive a personal project to elaborate at this private school, at your consideration and ability, with the obligation to write a report on the appropriate scope and then present it at the end of the internship. You will consult the process with a very willing professor, so no one has to worry that the work will be beyond his power. As for the conditions of the internship, everyone will meet them. Thanks to the friendly approach, you will also get the opportunity to get to know and travel. The professor himself encourages you to do so. I took advantage of this and tried to enjoy Bangladesh as best I could. But don't think it's a ready travel agency. By no means. You only have the opportunity; the rest is up to you and your abilities to take care of yourself in an international environment. Traveling here is very cheap, the food is excellent, although a bit monotonous, the people are great. Just overcoming the distance by bus is very, very slow (450km calmly up to 27 hours).
Mehedi prepared a lot of extracurricular activities for us, so we looked at the region where world-famous tea is grown, Lowacher National Park, where Hoolock's gibbon (known for its man-like gait) lives, the largest mangrove forest in the world, where the Bengal tiger lives or to a tropical island in the south of Bangladesh, where you will feel like in the Caribbean. Thanks to this, the internship will become much more exciting and engaging than you can imagine at the beginning. Do you want to travel to the surrounding countries? You can! Do you want to prove your English? You will! Do you want to deepen your knowledge of aviation theory? Just say so! At the beginning, we worked a little more than the others, so we had time to go to the end of the internship and get to know Nepal and India for a while. After all, if you are already in this part of Asia, it would be a shame to stay in only one place. Bangladesh offers a lot, but if there was the opportunity to look beyond the borders, why not take advantage!
IAESTE internship, beginning of new friendships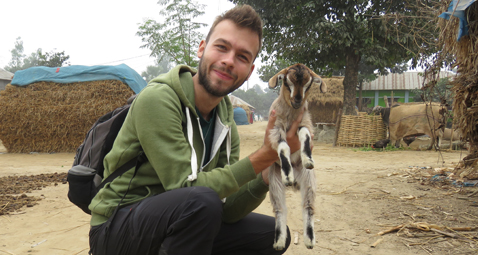 Of course, you are never alone on an internship, and we met in a really international environment in which we were all able to function and make a lot of new friendships. We even said that we would all meet again, of course, in the middle of Europe, i.e., in the Czech Republic. There were representatives of Germany, Switzerland, Slovakia, Austria, Spain, and Japan. So you see, there are more fools who are interested in Bangladesh. I was a little worried about the internship because my English wasn't good at all, but in the end, it was unfounded, and now I'm happy I left. I improved my English by using it regularly and somehow got used to speaking English so much that when I met the first Czech in Nepal, it was a problem for me to speak my mother tongue again. Without IAESTE, I would never have enjoyed incredible three months in Asia, where I was not only in Bangladesh but also to jump in Nepal and India. Do you want to go out? What are you waiting for? Despite the more challenging beginning, you will never regret it!
Ing. Lukáš Veg